We've been really good this year. I mean, we've got to be on someone's 'Nice list' and that got us to do a little dreaming of what would we would put on our top 5 wish list for the best vehicles ever. Being surrounded by a massive inventory of used cars, trucks, and SUV's every day, it's easy to get lost thinking about cars you could drive today, but sometimes you just want to dream about what could be parked in the garage if you had the chance.
5 Vehicles To Put On Your Wish List
In no particular order…
1. 1968 Shelby Mustang GT500KR
In a time when getting between lights the quickest was the thing to do, the King of the road was the GT500KR. It even said it was the King in it's name. As one of the most iconic Mustangs ever created, the stated 335hp produced by the Ford CobraJet engine was thought by many to be a gross understatement, but it made getting insurance a little easier. If you are lucky enough to have one of the less than 1000 fastbacks created, or 318 convertibles – you are indeed a lucky individual. All we ask is you come take us for a ride.
2. Bugatti Veyron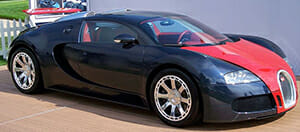 Seriously, who wouldn't love to have a million dollar, 1,000+ horsepower, W16, quad-turbo 8L speed machine available to drive at a moments notice. I'm not even sure there's a racetrack in British Columbia where you could actually get to experience the madness of going over 400 km/h but I guess if you have that type of money, you could have your car shipped to any one of the worlds most incredible racetracks and have a track day to really test this machine out.
3. Mazda MX-5 Miata
On the polar opposite spectrum from the Veyron, the zippy Mazda convertible, launched in 1989 has created an indelible mark on the automotive world and continues to be a popular choice for those looking to get out and zoom zoom around the countryside. Over 800,000 Miata's have been produced since it's launch and there are no signs of it's popularity letting up.
4. Cadillac Eldorado Brougham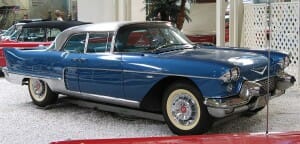 Maybe you want to relive the days of Sinatra or simply have a really good place to play your classic Elvis collection. Either way, if you want a classic piece of North American automotive history, then the big Caddy with the big fins is the car for you. With recent examples of these classics going for well over $100k and only a limited number ever made, you may be on a long list of people who want this ride.
5. Porsche 959
Talk about one of the first technological wizard cars, the 959 was a glimpse into the future of what supercars would become. At the time this rocket was the fastest street-legal production cars with a top speed approaching 200 mph. Shove a twin-turbo flat 6 2.8L engine, combined with a 6speed transmission driving all four wheels and you have once incredible ride that could take you to 100 km/h in under 4 seconds.
What do you want?
There are hundreds if not thousands of other vehicles that should and could be on this list, but we like to keep it simple. It's kind of our thing. Maybe you'll find what you're looking for in our own inventory.  What would you put on your wish list?
Please comment below. Who knows, maybe the jolly guy will be watching.